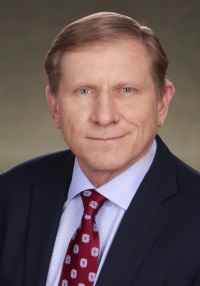 ENGLEWOOD, COLO, September 6, 2018 - HCA/HealthONE's Swedish Medical Center announced that Dr. Kevin Davis, board-certified OB/GYN and oncology physician with Rocky Mountain Gynecologic Oncology at Swedish Medical Center successfully performed his 1,500th robotic assisted surgery this week.
"It's a proud achievement for me and for our surgical robotics program at Swedish Medical Center," said Dr. Davis. "I am thrilled to have impacted so many patients in a positive way". Dr. Davis was one of the first surgeons in Denver and the Rocky Mountain region to perform robotic minimally invasive gynecologic surgery and he continues to be a leader in robotic-assisted gynecologic procedures. The Surgical Robotics Institute at Swedish is one of the leading centers in the region.
"It is exciting to celebrate this milestone with Dr. Davis," said Tyler Hood, vice president of operations at Swedish Medical Center, "This achievement represents 1,500 of Dr. Davis's patients who have benefitted from less invasive surgery and faster healing."
Robotic Surgery is a minimally invasive technique that is performed using the precision of a robot and the expertise of a surgeon. Patient benefits include less pain, smaller incisions, and a faster recovery time. Using the da Vinci Xi® Surgical System, surgeons at the Swedish Medical Center Surgical Robotics Institute perform advanced gynecologic surgery, general surgery, and urologic surgery. For more information about the Institute visit SwedishHospital.com/Robotics.
News Related Content