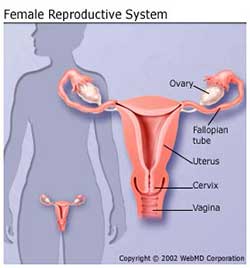 Uterine Cancer is the most common malignancy of the female reproductive organs.
It is the 4th most common cancer in women behind breast, lung and colon cancers
Risk Factors:
No children or pregnancies
Early menarche
Late menopause
Obesity
Unopposed estrogen therapy
Signs or Symptoms:
Unusual vaginal bleeding or spotting (most common)
Vague pelvic discomfort
Generalized weakness
Unexplained weight loss
Diagnosis
Made by tissue evaluation for pathologic confirmation by either endometrial biopsy or dilation and curettage (D&C).
Stages:
Stage I: Cancer is confined to the uterus
Stage II: The cancer has extended to the cervix
Stage III: Extension of the tumor outside the uterus to other pelvic organs or lymph nodes
Stage IV: Metastasis (spread) beyond the uterus, pelvis and lymph nodes
Grades:
Grade I: well-differentiated
Grade I: moderately-differentiated
Grade I: poorly-differentiated
Treatment
Surgery is usually the treatment of choice and includes hysterectomy with removal of the fallopian tubes, ovaries and lymph nodes in the pelvis.
Recommended Follow-Up:
Routine Pelvic exams along with PAP smears to be scheduled as follows:
Every 3-4 months for 2 years
Every 6 months for 3-5 years
Yearly thereafter